Vented gas logs
There are some nice advantages to a vented gas log set. First of all it is installed into an existing wood burning fireplace making an unused cold spot in your home a lot more welcoming. The flame that accompanies the vented gas log set is large and realistic, and like a wood burning fire it operates by using your chimney flue or damper. Some vented log sets are available with a standing pilot and remote system that eliminates the hassle when lighting a wood fire, just press the on button and off you go. There are vented gas log sets that have a manual control with safety pilot that would also include a standing pilot and cost less. The heating capability of a vented gas log set will typically heat a room, about the same as a wood burning fire. A great piece of mind is when you are ready to retire for the evening, it is just a click of a button or turn of a knob that shuts off the gas, and fears of leaving the fireplace after use, disappear. Vented gas logs don't leave soot on furniture or walls or require any clean up when finished. They are available in natural gas and propane.
Monessen American Oak Vented Gas Log Set
Manual system with safety pilot
Check it out!
Monessen Duzy 5 Vented Gas Log Set
Remote ready
Check it out!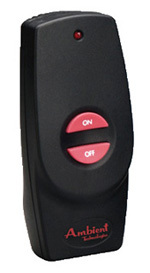 RCB On/Off Remote
Check it out!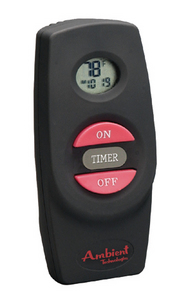 RCMT Timer Remote
Check it out!